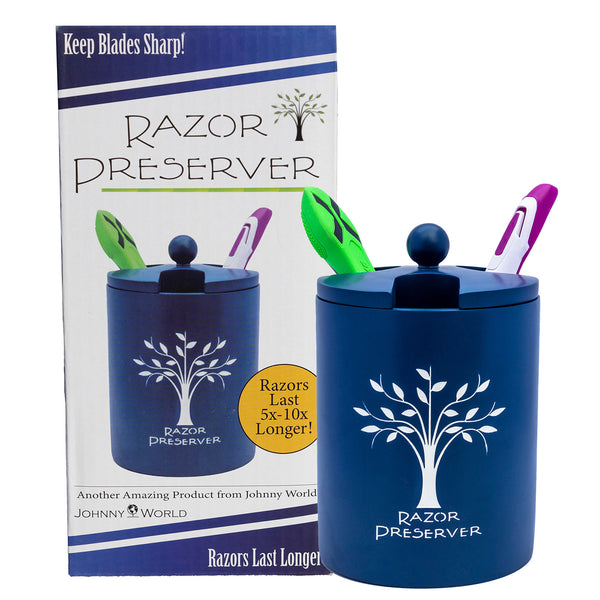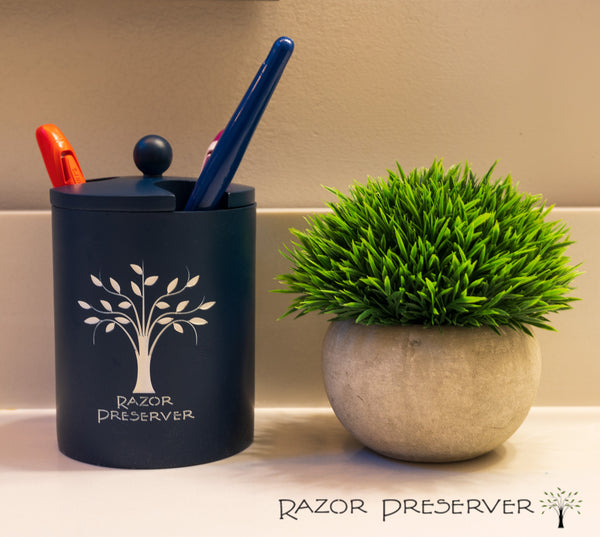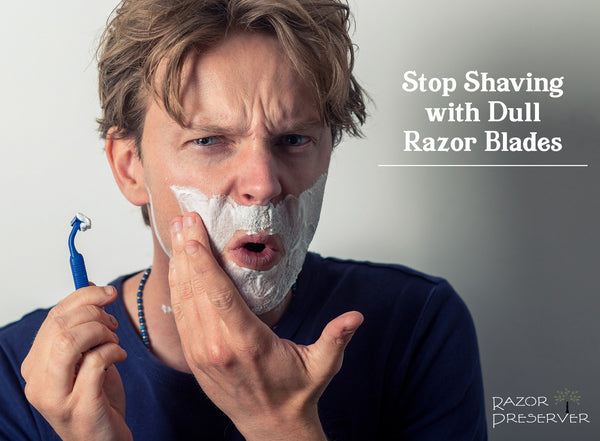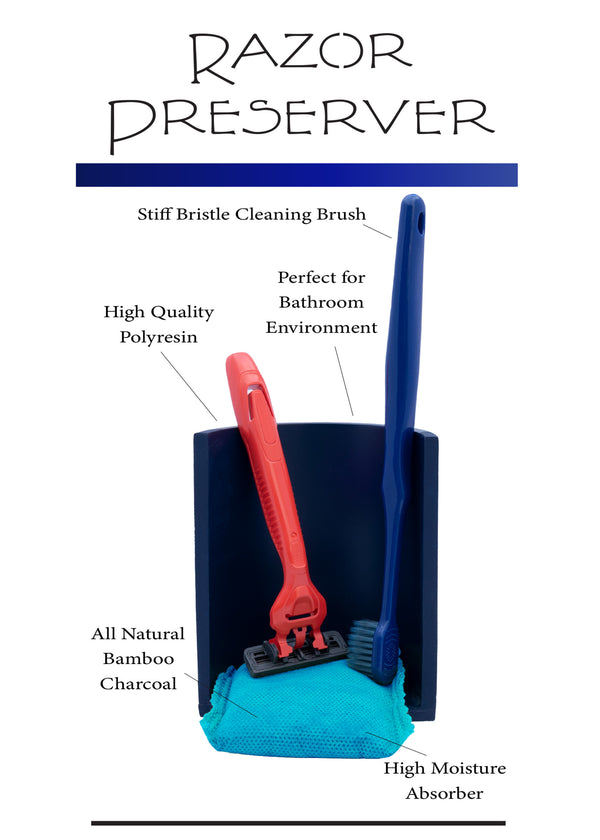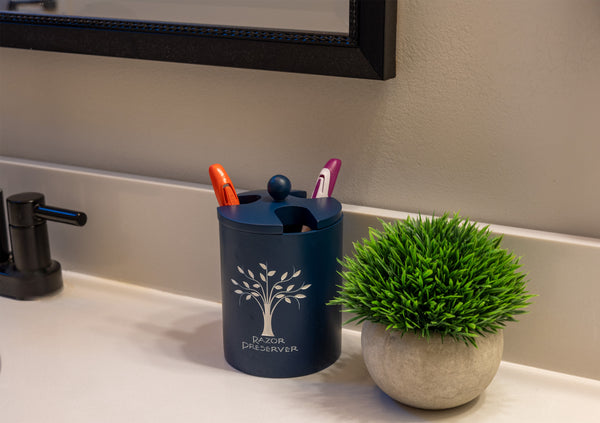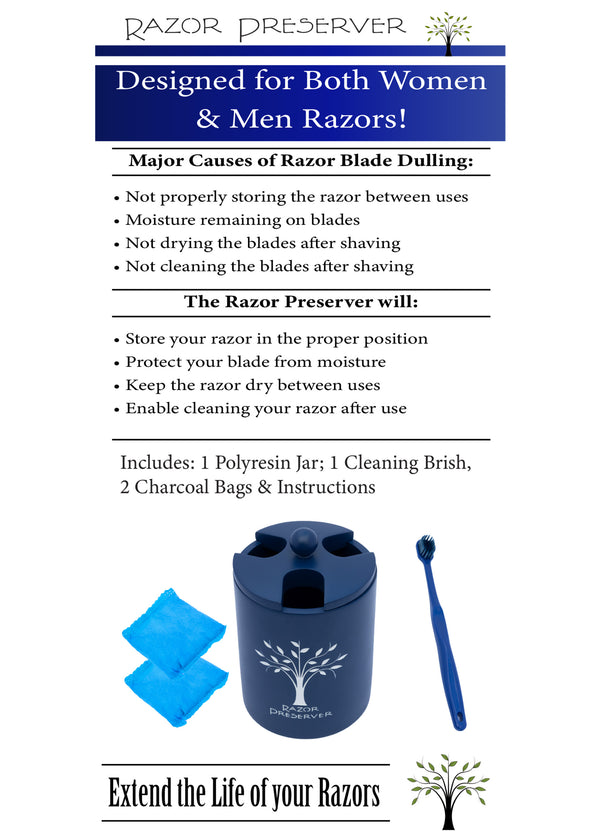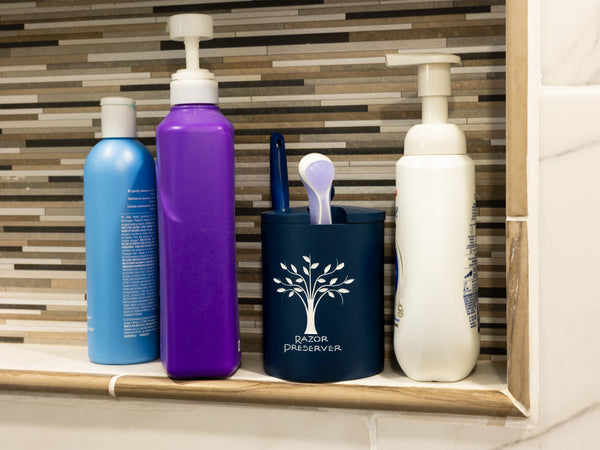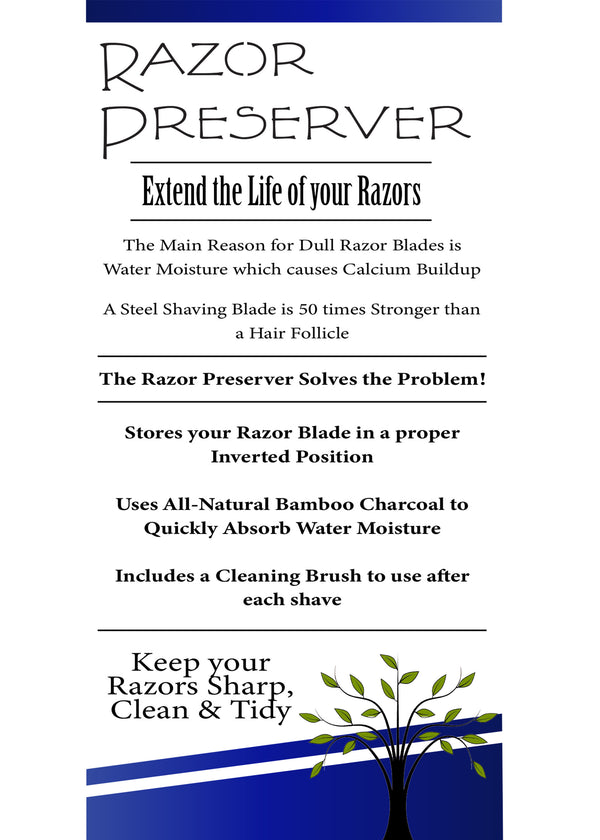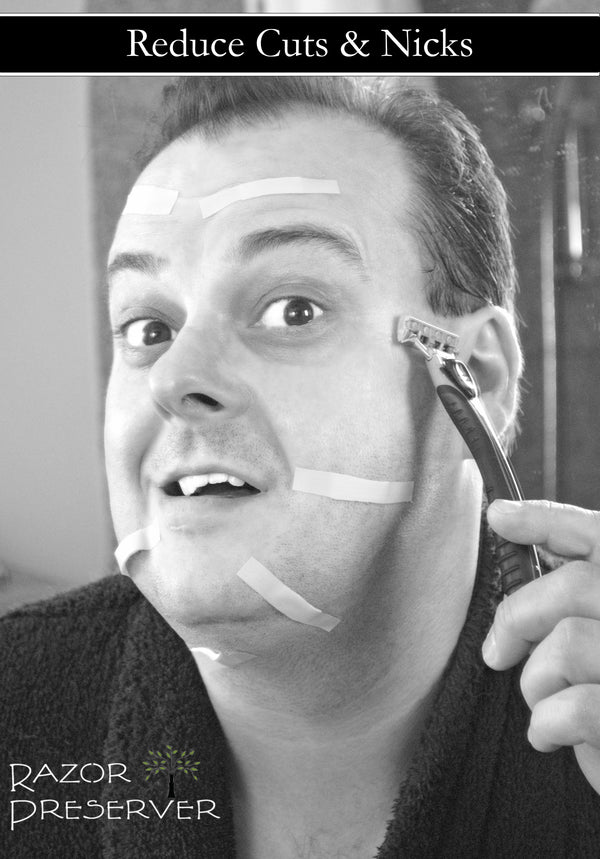 The Razor Preserver by Johnny World™

Extend the Life of your Razor Blades!
Attractive Razor Jar with Cleaning Brush and Charcoal Moisture Absorber
The Razor Preserver jar is a razor holder that uses multiple approaches to keep your blades sharp and clean for an extended life. Unlike other products which only have one feature, the Razor Preserver combines 3 things for maximum effectiveness. First, the Razor Preserver stores your shavers properly. Second, the included cleaning brush allows you to easily remove debris after you shave. Lastly, the special bamboo charcoal bag absorbs moisture.
Use the Razor Preserver jar to store your razor blades in a better way. Studies have shown that razor blades become dull and don't provide a smooth shave after only about 6 shaves. The blades start to pull the hairs during shaving, causing discomfort and irritation and end up being thrown away in less than two weeks. Using a dull blade also can lead to painful ingrown hairs.
What leads to this dulling and damage? It's not the human hair! The stainless steel commonly used on razor blades is 50 times stronger than our hair strands. Using microscopic imaging, it can be seen that pitting forms on the blades and leads to razor burn, bumps, and nicks. This damage is caused by sodium and calcium evaporates from water remaining on the blade edge. It is these salts and the residues from skin and hair that cause corrosion. The Razor Preserver is designed to solve this problem. 
FOR WOMEN & MEN - This razor stand will help extend the life of both men's and women's shaving tools. The Razor Preserver jar is designed to fit and hold any common brand of men's and women's razors. The thoughtfully constructed stand also fits into the design scheme of any bathroom. The dark blue design conveys elegance and quality and hides unsightly razors lying on the counter.
BETTER SKIN CARE - It's important to keep a razor sharp for good hygiene. When a razor starts to feel rough or uncomfortable on the skin, it can cause irritation and lead to ingrown hairs. Dull blades can cause razor bumps, redness, soreness and itchiness. A bad razor blade is much more likely to cause cuts and nicks on the skin, which can lead to issues. Using the Razor Preserver storage system will help keep blades sharp, clean and dry and lead to smoother, healthier skin.
HIGH QUALITY – The thick Polyresin barber jar is designed for the humid bathroom environment. Sturdy and easy to clean! The Razor Preserver allows proper storage of 2-3 razors in an attractive jar. One extra charcoal bag is included. Extremely durable – if it ever breaks, we'll replace it for free.
SAVES MONEY - With some disposable razor blades now costing more than 5 dollars each, the Razor Preserver will quickly save you money over the course of the year. On average, an American who shaves regularly will use between 40-80 disposable razors or blade cartridges annually. With the Razor Preserver, you will cut that number down exponentially, potentially leading to hundreds of dollars in savings per year!
GREAT STORAGE - Stop putting your razor blades on the bathroom counter. Razors that lay around collect moisture and dust. The Razor Preserver stand stores razors in the proper position (upside down) and keeps them away from pets and children. The cover keeps your razors clean and helps to protect against moisture in the air. The charcoal moisture absorber will eliminate the rest. The attractive jar also looks great in every bathroom!
WHAT CAUSES DULL BLADES? –

Moisture left on stainless steel blades is the primary reason for razors dulling. The moisture causes oxidation and microscopic pitting and chipping on the blade edge. Corrosion of the steel blade edge is from salts left from hair and skin residue. Damage to the blade is also caused by formation of calcium evaporites from water moisture – which can be mitigated by keeping the razor dry. The Razor Preserver jar helps to solve these issues all at once.
KEEP IT SHARP! –

Your blades are not dulling because of shaving your legs - the steel used in razor blades is 50 times stronger than a hair follicle! The Razor Preserver solves the problems with dulling blades so you can enjoy clean, close shaves for a longer time. You will notice the difference immediately. The Razor Preserver also helps the environment by reducing waste and helps you save money by cutting down on the number of razors you have to buy.