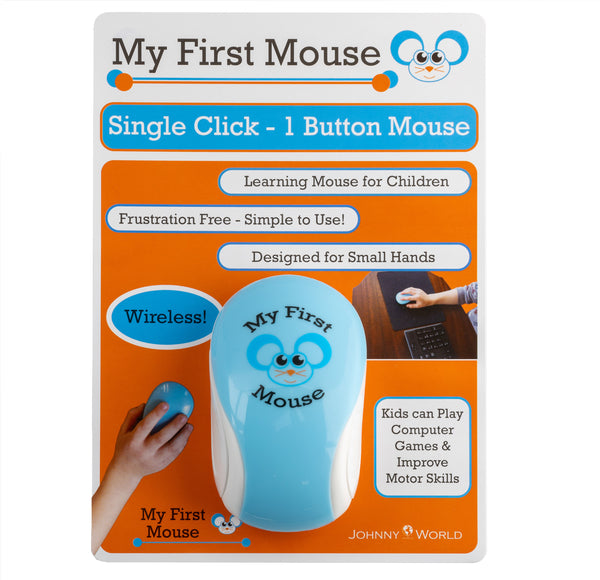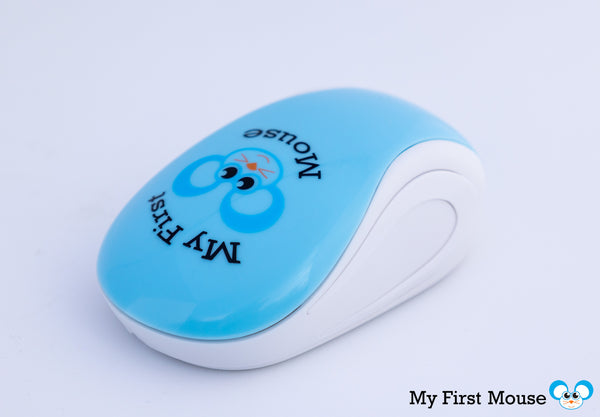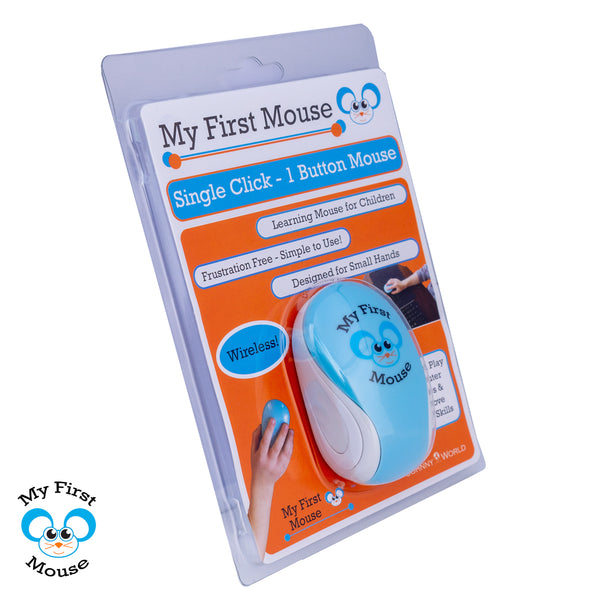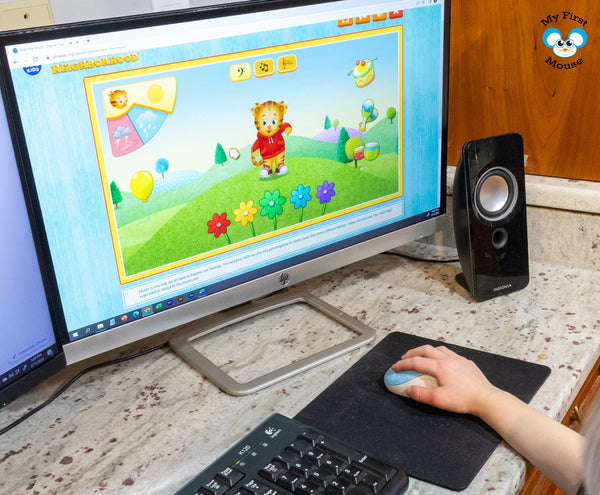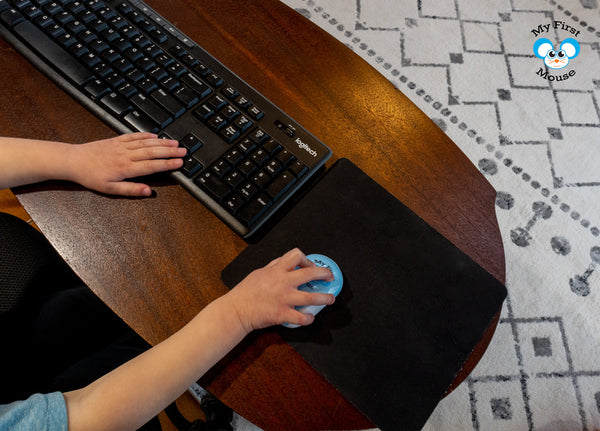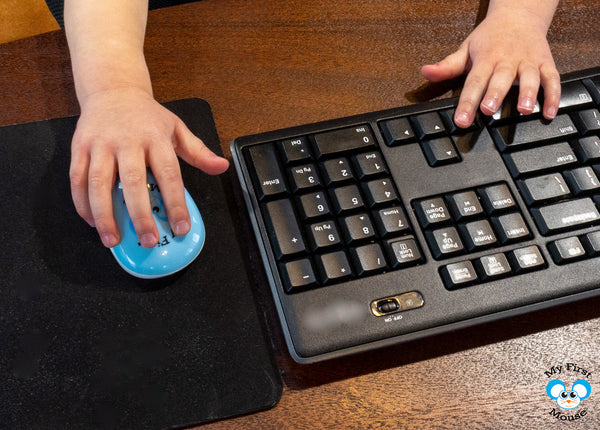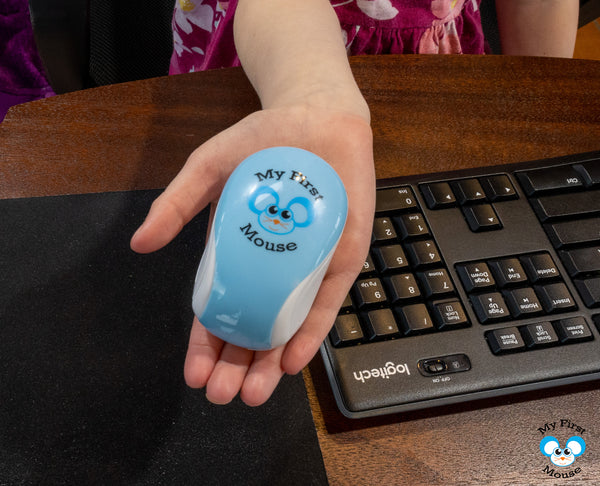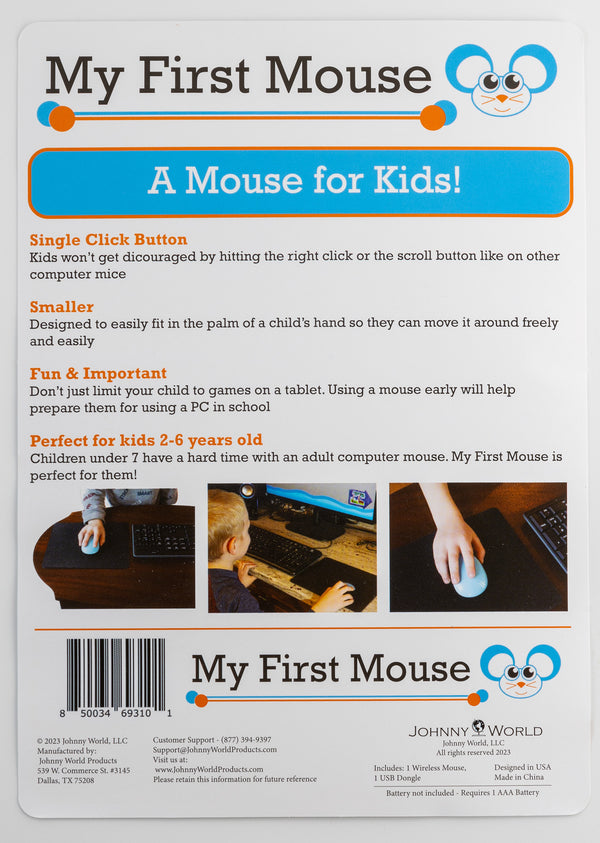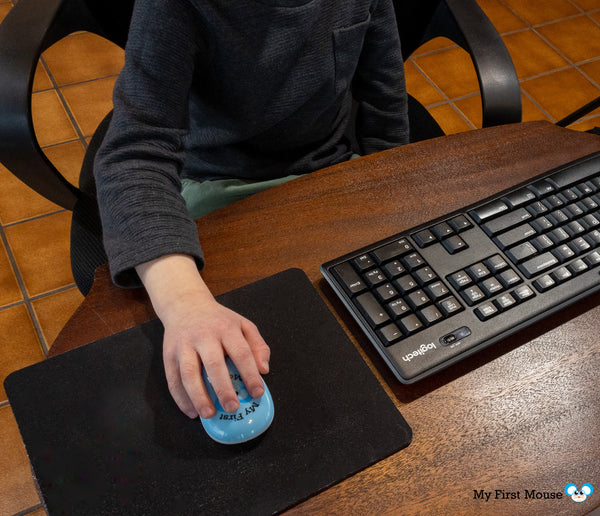 My First Mouse by Johnny World™

A Computer Mouse for Kids!
Wireless Single Click One Button Mouse Designed for Early Learners
My First Mouse – the Learning Mouse for Children! My First Mouse was actually inspired by the real-life experience of a designer with their own small children and seeing the frustration when trying to use a standard sized mouse. My First Mouse is specifically designed for young children to learn and use computers. 
This mouse has no left or right click buttons and no scroll wheel. Instead, the large top portion of the mouse clicks easily to perform only normal left button functions. My First Mouse allows children to perform basic functions without the confusion caused by clicking the wrong button or accidentally moving the scroll wheel. The smaller size is perfect for young hands. This is the perfect mouse for young children to be able to play learning apps on any PC or laptop. My First Mouse is easy to control and encourages self confidence in early learners!
SINGLE BUTTON - My First Mouse is designed without a scroll wheel or a right click button – which often frustrate young children when playing on a computer. The large single button enables kids to easily click with one finger or their entire hand. Complicated full-size mouse features have been purposely removed to create a simple, easy to use mouse for children. Using a mouse at an early age will help kids prepare for learning in school!
EARLY LEARNING - Use My First Mouse to supplement your child's learning in addition to other tablet games. Boost hand eye coordination and help teach an important skill with using a computer mouse. Open a whole world of fun education games to your kids on a PC or a Mac.
ADORABLE DESIGN –

Using computers can be intimidating for young children but My First Mouse is designed to be inviting and fun! Colorful, lightweight and with its own little "mouse" design to help kids learn the terminology, My First Mouse is the perfect tool to help children transition from tablets to real computer use.
WIRELESS - Easily connects via a standard USB port to any computer, laptop, desktop, tablet or other device. Simply open the top cover of the mouse and insert one AAA battery (Battery not included).
SIMPLE TO USE - Kids won't get discouraged by hitting the right click button or the scroll button like on other mice. Paired with increasing the size of your cursor on the screen for better visibility, your child will quickly and intuitively begin to learn how to use a computer mouse - an important skill for future school and work.
SMALLER – Specially designed to fit the palm of smaller hands, My First Mouse is the perfect size for young children. Lightweight but sturdy construction is a perfect combination. Many children under 7 years old have difficulty with large mice designed for adults. My First Mouse is perfect for them!
ACCESSIBILITY – My First Mouse is also a good solution for people with limited motor skills, such as the elderly or the handicapped. Help others use a computer more conveniently! My First Mouse is one of the only computer mice with a single click button. My First Mouse is ambidextrous and can be used by both Left handed and Right handed people.