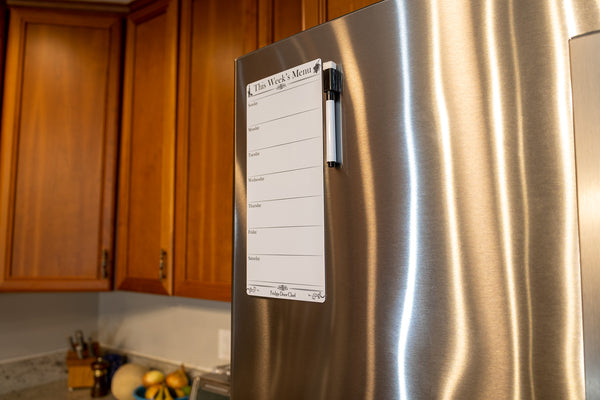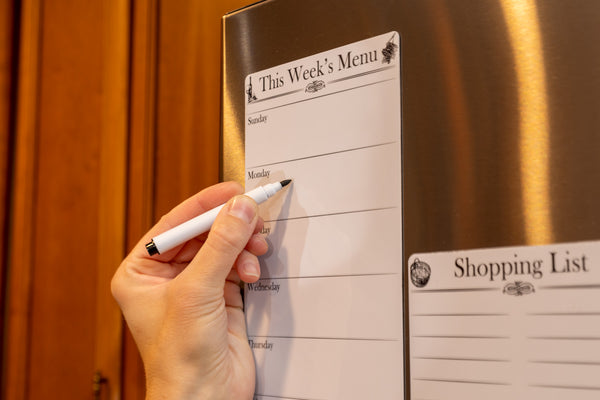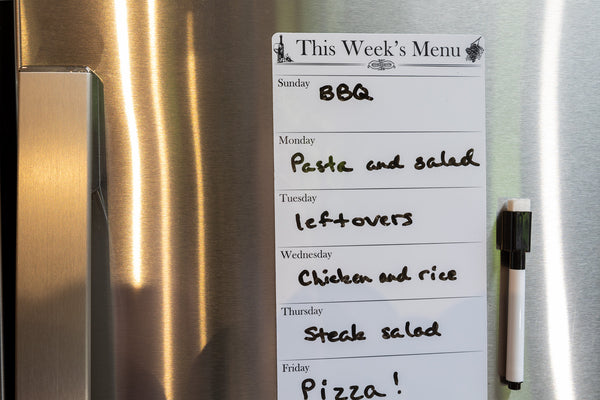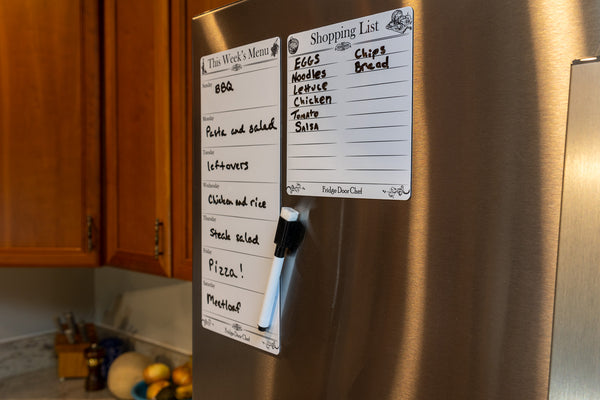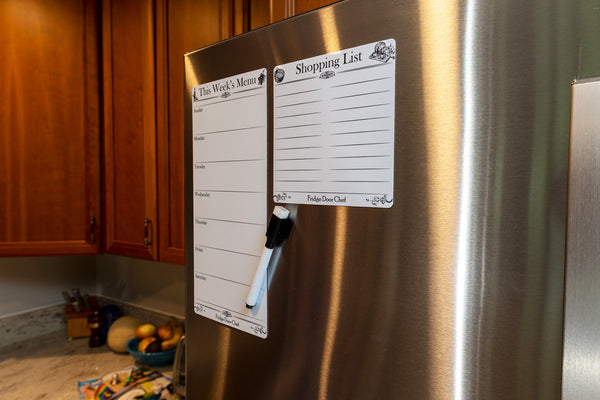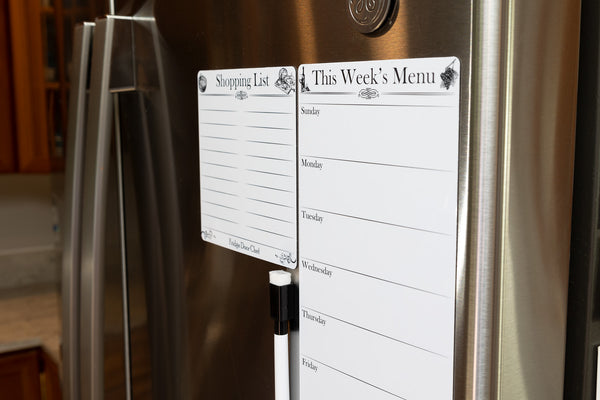 Fridge Door Chef ™ - Meal Planning Magnet
Regular price
$12.99
Sale price
$15.99

Free Bonus Shopping List Magnet!
The Menu Planning Magnet from Fridge Door Chef has been specially designed to help busy families prepare for the week ahead. Through real world testing, we have discovered the perfect size and shape for writing down a meal plan for every day of the week. Save time and money by planning ahead.
EASY TO USE, PERFECT SIZE: Convenient 11" x 5" size leaves plenty of room to plan your family meals for the entire week. Unlike other products which take up a large space on your refrigerator, the Weekly Menu Planner from Fridge Door Chef is a great shape to place near the edge of your refrigerator for a nice clean look.
MENU PLANNER: This stylish magnet will make meal planning a breeze! The Weekly Menu Planner uses a vertical listing of each day which allows you to plan your menu for the whole week. Acts like a whiteboard and allows you to update quickly. Don't fumble with your phone in the messy kitchen environment - just simply write down each day's food menu and get organized.
SAVE MONEY AT THE STORE: Don't overspend on groceries anymore! Easily make a plan and stay on track. With two free dry erase markers included, you'll always be focused and have a gameplan at your fingertips. No more buying extra items which get thrown away later.
CLEAN DESIGN: Classic design looks good in any kitchen and makes it easy to read. This product comes in a great-looking retail package, so it is perfect for a gift to a person who loves to cook. Use it for a housewarming gift, baby shower, Christmas, birthdays and more!
MADE FROM HIGH QUALITY MATERIAL: Heavy duty vinyl magnet sticks well to your fridge or microwave. It is durable, washable and easy to keep clean. The dry erase markers work perfectly on the material and easily wipe off. The black ink contrasts with the white background making it easy to read.
FREE BONUS MAGNET! Includes another magnet to keep a shopping list. Once you plan your weekly menu, conveniently write down some of the items you'll need at the store. Just snap a picture or add to your grocery app when you're ready to shop. Large 5" x 5" size gives you lots of room to add plenty items you'll need at the grocery store.