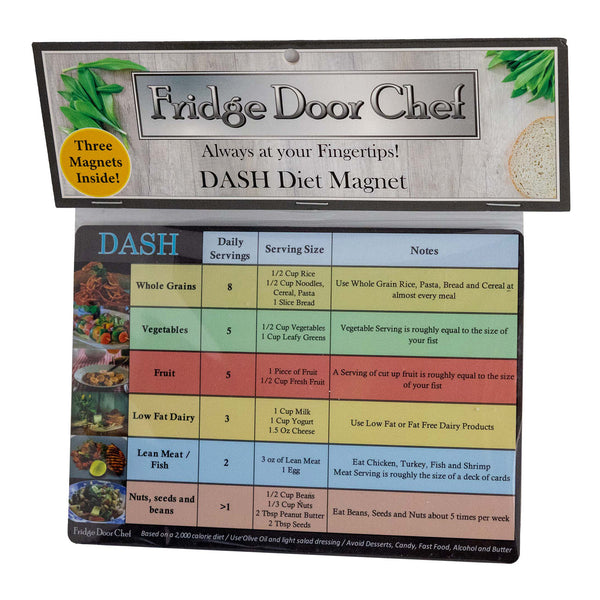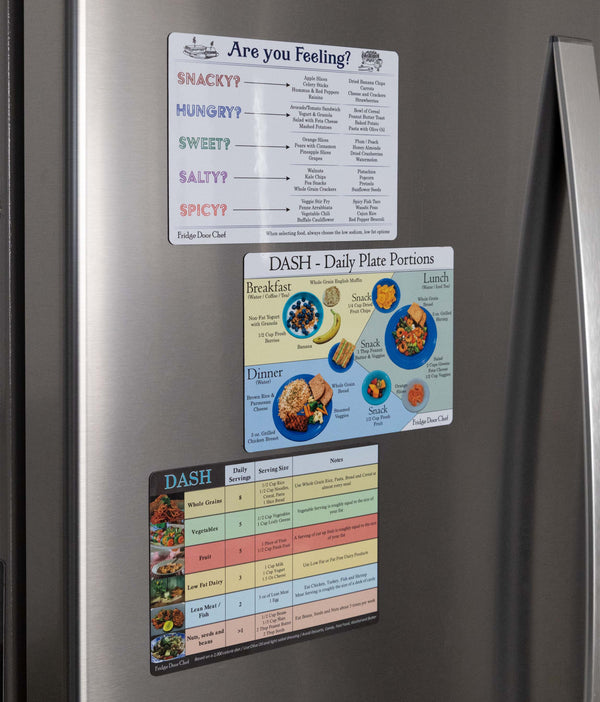 Fridge Door Chef ™ - DASH Diet Reference Magnet
Regular price
$8.99
Sale price
$12.99

The World's Healthiest Diet!
The DASH Diet is a flexible and balanced eating plan that helps create a heart-healthy eating style. The DASH Diet is consistently ranked as one of the healthiest diets to follow in the entire world. It's also easy to follow with foods found at your grocery store using these handy magnets. The DASH diet is rich in vegetables, fruits and whole grains. It includes fat-free or low-fat dairy products, fish, poultry, beans and nuts. It limits foods that are high in saturated fat, such as fatty meats and full-fat dairy products.
TOP-RATED – Consistently ranked as the best Diet for your Heart, Blood Pressure and Overall Health. Recommended by all the top Heart Associations and Heart Clinics.
SET OF 3 LARGE MAGNETS – High quality and designed in the USA by the Fridge Door Chef. Durable and easy to clean magnets made for your kitchen.
MUST HAVE – Includes 3 different magnets to help meal planning, fun food alternatives and a reference for serving sizes and amounts.
STRONG MAGNETS – Place these on your refrigerator, microwave, range hood or anywhere that is convenient. Provides a constant reminder for your DASH DIET foods.
PERFECT SIZE – Easy to read magnets are approximately 5x7 inches. Quickly provides an easy to use guide on what types of food to eat.
HEART HEALTHY – Perfect gift for anyone needing to adhere to a healthier diet due to heart issues. These magnets will help loved ones stick to their diet!
SAVES TIME – Don't waste time looking up guides on your phone. Just quickly glance at these magnets to follow an entire day's worth of food choices.
ATTRACTIVE – These magnets are colorful and stackable so they won't take up all your valuable refrigerator space!
DASH stands for "Dietary Approaches to Stop Hypertension". The DASH diet is a healthy-eating plan designed to help treat or prevent high blood pressure (hypertension). The DASH diet includes foods that are rich in potassium, calcium and magnesium. These nutrients help control blood pressure. The diet limits foods that are high in sodium, saturated fat and added sugars.
Studies have shown that the DASH diet can lower blood pressure in as little as two weeks. The diet can also lower low-density lipoprotein (LDL or "bad") cholesterol levels in the blood. High blood pressure and high LDL cholesterol levels are two major risk factors for heart disease and stroke.