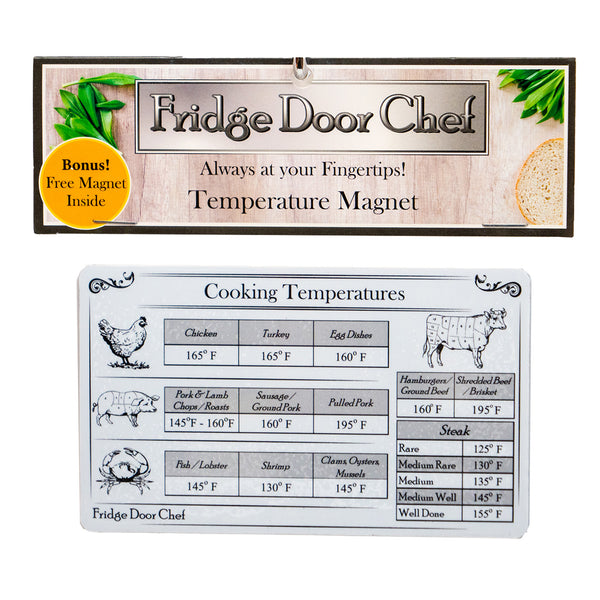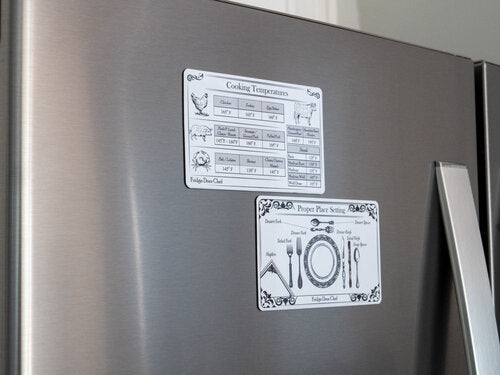 Fridge Door Chef ™ - Internal Cooking Temperature Magnet

Neatly Packaged with a Free Bonus Magnet!
Quick question - what temperature do you cook a Medium Rare steak?

Answer - use your Internal Temperature magnet from Fridge Door Chef!
Always have this magnet handy in your kitchen and give one as a gift to your friends and family. Neatly displays all the cooking temperatures you need.
This magnet captures the most widely needed food safe meat temperatures. Quickly get the answers you need while cooking in the kitchen. Also comes with a BONUS Proper Place Setting magnet! This classy bonus magnet will always remind you how to set the table before your guests arrive!

EASY TO READ, CONVENIENT SIZE: Perfect 3" x 5" index size. Unlike other products which take up a large space on your refrigerator, the Internal Cooking Temperature Chart from Fridge Door Chef is the perfect size - yet still easy to read.

SAFE COOKING TEMPERATURE CHART: Contains the most frequently used cooking temperatures for your recipes! The durable magnet can be placed right where you need it - on your fridge or microwave or even your grill. Don't fumble with your phone in the messy kitchen environment anymore - just simply grab this handy magnet to quickly look up the correct internal temperatures.
CLEAN AND MODERN DESIGN: Classic design looks great in your kitchen and makes it easy to read and understand. Never undercook or overcook your food again! You'll always have the answer right at your fingertips. This product comes in a great-looking retail package, so it is perfect for a gift to that person you know who loves to cook. Use it for a housewarming gift, baby shower, Christmas and birthdays!

MADE FROM HIGH QUALITY MATERIAL: Heavy duty vinyl magnet sticks well to your fridge, microwave, grill, etc. It is durable, washable and easy to keep clean.
BONUS MAGNET! This includes a magnet showing a proper place setting. A classy look that goes well on your fridge and will remind you to put the forks on the left side of the plate when your guests show up for dinner!