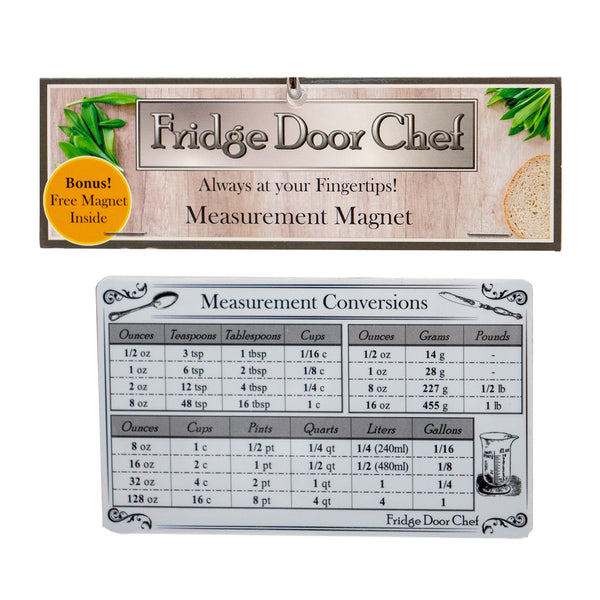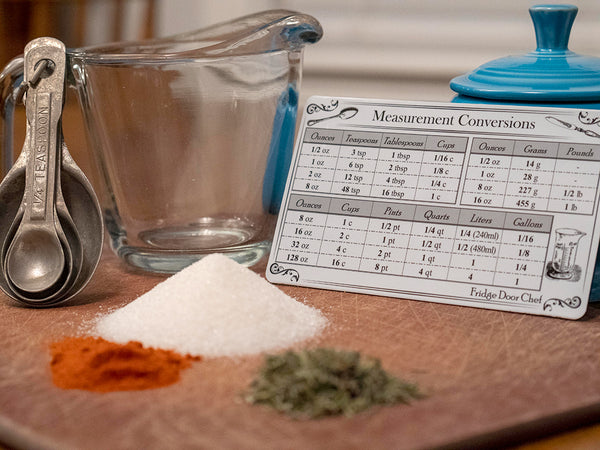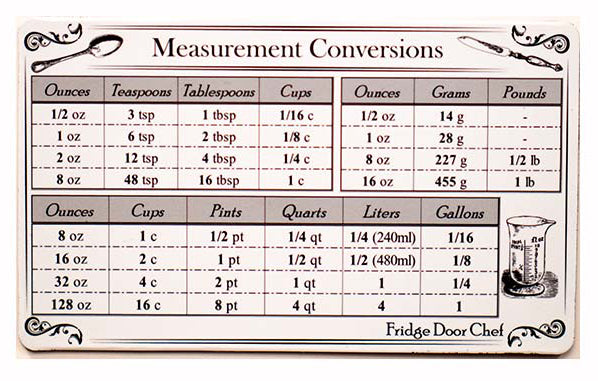 Fridge Door Chef ™ - Kitchen Measurement Conversion Magnet

Neatly Packaged with a Free Bonus Magnet!
Quick question - how many tablespoons are in 2 ounces?
Answer - use your Measurement Conversion magnet from Fridge Door Chef!
Always have this magnet handy in your kitchen and give one as a gift to your friends and family. Neatly displays all the measurement conversions you need. 
EASY TO READ, CONVENIENT SIZE: Perfect 3" x 5" index size. Unlike other products which take up a large space on your refrigerator, the Measurement Conversion Chart from Fridge Door Chef is the perfect size - yet still easy to read.

MEASUREMENT CONVERSION CHART: Contains the most widely-used measurements for your kitchen baking and cooking recipes! The durable magnet can be placed right where you need it - on your fridge or microwave and always close to where you need it. Don't fumble with your phone in the messy kitchen environment anymore - just simply grab this handy magnet to quickly look up the amounts you need.
CLEAN AND MODERN DESIGN: Classic design looks great in your kitchen and makes it easy to read and understand. Never make a conversion mistake again! You'll always have the answer right at your fingertips. This product comes in a great-looking retail package, so it is perfect for a gift to that person you know who loves to cook. Use it for a housewarming gift, baby shower, Mother's day and birthdays!

MADE FROM HIGH QUALITY MATERIAL: Heavy duty vinyl magnet sticks well to your fridge, microwave, grill, etc. It is durable, washable and easy to keep clean.
BONUS RECIPE MAGNET! This includes our most popular seasoning recipe of all time. Use it on everything - from fish, burgers, chicken, vegetables, rice to almost anything! This all-purpose seasoning blend recipe is used by chefs around the world - and now it will always be available to you too - right in your kitchen where you need it most often.