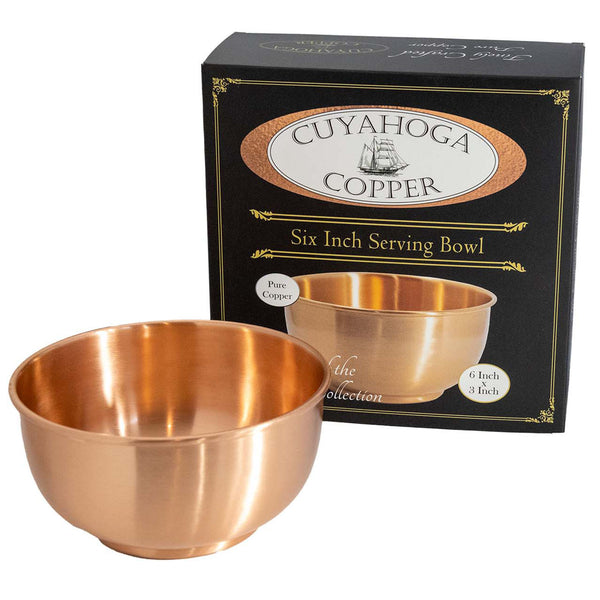 Cuyahoga Copper™- Medium 6 inch Pure Copper Bowl - Flat Bottom Bowl perfect for the Kitchen, Dinnerware & Decorative uses. Packaged in Attractive Gift Box!

Medium 6 inch Pure Copper Bowl
Packaged in Attractive Gift Box
Designed exclusively by Cuyahoga Copper, this Medium 6 inch pure copper bowl is handcrafted by finely trained metal workers. Add a touch of elegance to your kitchen with the warmth and shine of copper and turn a simple meal into something special. Also perfect as a gift for that person who appreciates quality pieces. As beautiful as it is functional, its size makes it perfect for everything from serving to brightening up your holiday centerpiece.
THICK, QUALITY COPPER: Unlike other products, this bowl from Cuyahoga Copper is thick, sturdy and made to last generations. You will notice the difference in quality once you hold this bowl. The workmanship is excellent and the weight and finish of the bowl is unmatched. You will be proud to own this bowl, use it in your home or give as a perfect gift for friends and family.
FLAT BOTTOM DESIGN: Allows for a variety of uses. You can purpose the bowl as stylish serve ware for salads, fruit, pasta and side dishes. Make as part of a centerpiece for your dinner party. Use as a decorative piece around the home. And of course, use this bowl in your kitchen as a versatile mixing bowl. The flat bottom allows easy storage when not in use. No longer have round bottom mixing bowls rolling around the counter.
FINELY CRAFTED: Cuyahoga Copper is a brand name specializing in a multitude of pure copper products. Unlike other brands, our products are not just coated in copper – which leads to scratches, dents and poor quality. Our products are high quality pure copper with a name behind it you can trust.
GREAT SIZE: This is a medium size bowl measuring 6 inches in diameter and 3 inches in height. The deep design is a perfect blend for kitchen work, decoration and serving. Use it for salads, pasta, mashed potatoes, steamed vegetables, macaroni salad, clams, snacks, berries and other fresh fruit. The possibilities are endless!
TIMELESS BEAUTY: Copper has been used in kitchens for centuries due to its flexibility but also because of its aesthetically pleasing appearance. Add a sense of richness and warmth to your kitchen, dining room or any space that needs a touch of luster.
PERFECT GIFT: This gift giving season, think of something different. This beautiful copper bowl will make the perfect gift for the gourmet chef in your life. Its classic pure copper design gives it the weight and feel of pure luxury.