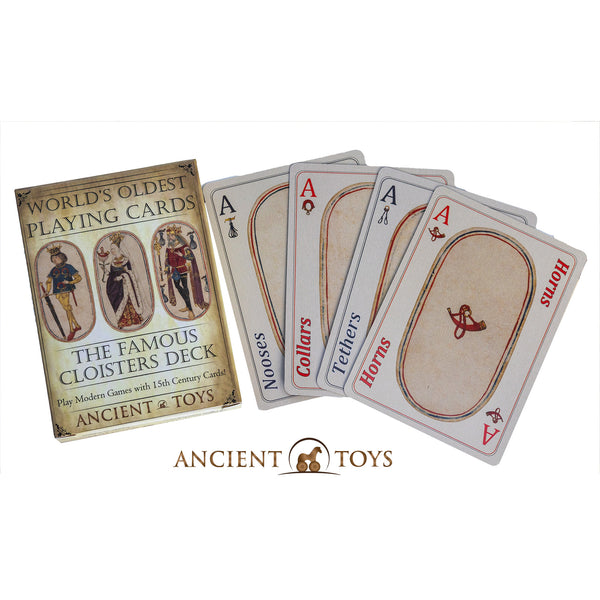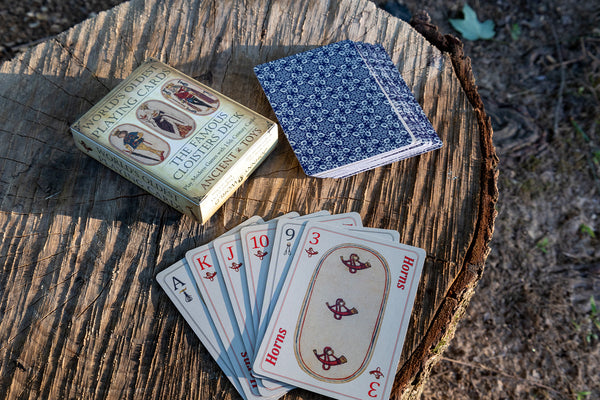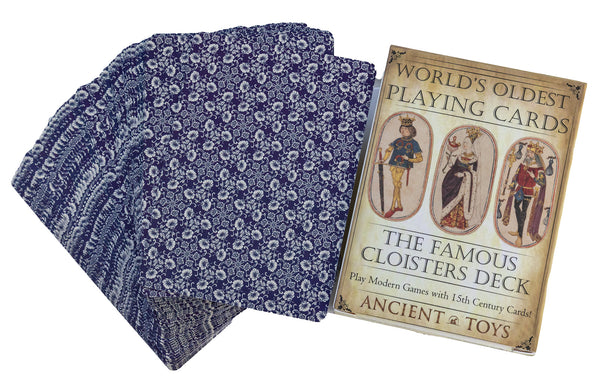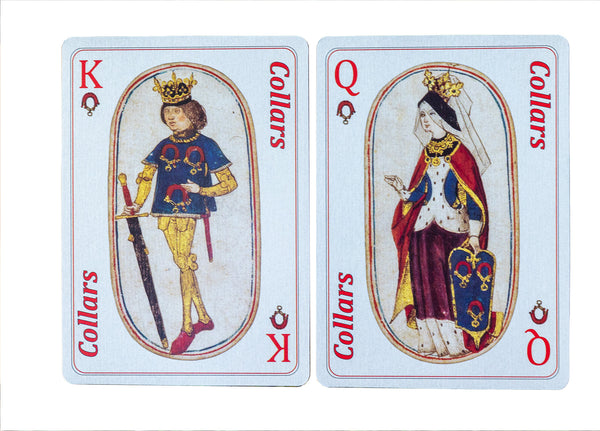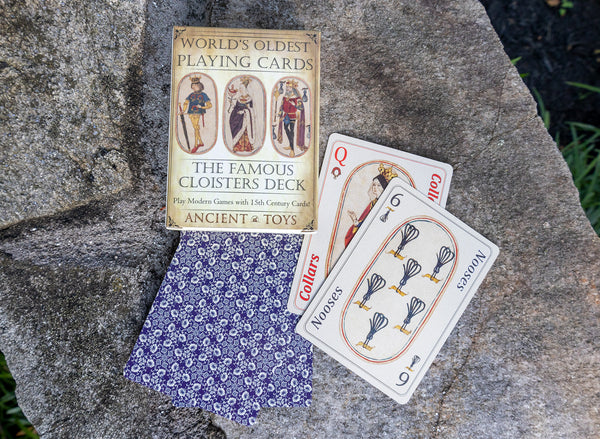 Ancient Toys™ – World's Oldest Playing Cards

Dating Back to The Medieval Ages, Play Any Modern Card Game with This Legendary Deck of Cards!
This set of fifty-two cards is a reproduction of the famous Cloisters set of playing cards dating from the 15th century. It is the oldest known complete deck of ordinary playing cards in the world.
Containing 52 cards and four suits, our deck can be used to play any modern card game. Each suit contains a King, Queen, Jack, and 10 numbered cards. The suits match the ancient cards and include Horns, Collars, Tethers and Nooses. The colors also correlate to the familiar Hearts, Diamonds, Clubs, and Spades.
HISTORICALLY ACCURATE - Carefully designed based on the actual set of Flemish Hunting Deck cards from the 15th Century. The illustrations are rich in detail and feature characters in traditional style and dress from the era. Short hair, pointed shoes, short jackets and grand gowns adorn the Kings, Queens and Jacks, while the suits themselves carry the game nooses, hound tethers, hunting horns, and dog collars that made up standard hunting equipment of the age.
HIGH QUALITY - Made from high quality 310 GSM Blue Core Paper, the cards are sturdy with a nice finish and easy to shuffle. Images from the original deck were painstakingly reprinted on modern playing cards. This deck will stand up to the repeated shuffles of any high stakes poker night or solitaire filled rainy vacation!
COLLECTOR ITEM – The Cloisters Deck of Playing Cards is perfect for folks interested in magic, renaissance fairs, medieval enthusiasts, re-enactors, tarot, card tricks and fortune telling. The set is also great for anyone who enjoys playing card games and collecting different styles. No collection is complete without the world's oldest deck of cards!
CONVERSATION PIECE - Break away from that boring old deck of cards and travel back in time to the Medieval Ages with these beautifully illuminated, detailed playing cards. Also included is a number of information cards with additional pictures and information on the history of the Cloisters Deck. Use this to begin a great conversation with guests and friends about a time long ago…
GAME NIGHT FUN - Add some excitement to your regular game night with these historical playing cards. Instead of the game of Hearts, try Horns! Or have a Nooses tournament instead of your routine Spades! Turn it into a theme night and suggest that everyone come in historical dress!
LEARN HISTORY – Comes packaged in a professional and attractive box, perfect for gifting to your favorite relative or friend. Great gift idea for young people and a fun way to introduce them to history. Ancient Toys strive to teach about the past in an interesting and compelling way.
A MAGICIAN'S FRIEND – The perfect way to add a little extra flair and mystery to your act. This card deck would make a perfect addition to any magician's repertoire of card tricks! Even amateurs can add a little mystery to their card tricks with these ancient playing cards.